Sephora Is Having A Harder Time Recovering After COVID-19 Than Anyone Expected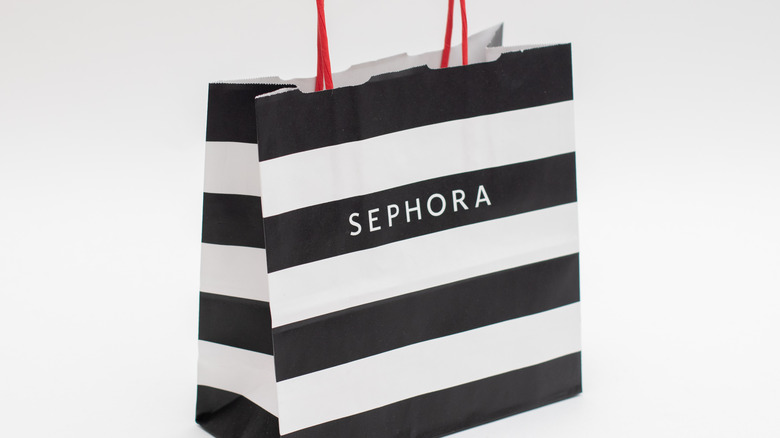 Epov Dmitry/Shutterstock
Famous in the beauty industry for its wide variety of high-quality makeup and hair products, Sephora is one of the most prominent retailers in the beauty world. Some of the countless brands available at Sephora include Bobbi Brown, Calvin Klein, Dior, Gucci, IT Cosmetics, Juicy Couture, Too Faced, and Urban Decay. Furthermore, with a whopping 21 million followers on Instagram, including Selena Gomez and Zendaya, it seems like Sephora is dominating the social media game. But Sephora isn't only killing it on the 'gram; it's got an admirable 359,000 followers on TikTok, too.
Between the company's commendable social media presence, celebrity followers, and designer brands, it would be easy to assume that Sephora is on top of the world — or at least the beauty world. And according to data by SafeGraph, Sephora was killing it — that is, before the COVID-19 pandemic hit. If we take a closer look, we see that Sephora had an excellent foot traffic score of around 100,000 visits in one day in December 2019. Understandably, its foot traffic took a brutal hit during the pandemic's initla lockdowns, getting only 2,588 visits in a day during early April 2020. Of course, every other beauty retailer in the game took this hit to their foot traffic numbers, too. But even now, Sephora's numbers still aren't so good. So, what went wrong?
People don't want to pay Sephora's prices
According to data collected by SafeGraph, Sephora's foot traffic score in early April 2021 — around a year after lockdowns began — was 37,502, which wasn't even half of its highest number of visits from before the pandemic. Fast forward to early July 2022, and Sephora has an even lower foot traffic count at only 17,950 in a single day.
At first, these low numbers might seem shocking, but it's crucial to think about the harsh reality of the world in which we currently live. Inflation has made buying necessities like food, gas, and home items stressful, making beauty products feel like a want, not a need, now more than ever. Many people are likely saving Sephora visits exclusively for splurges during these expensive times, as many items are pricier than the competition. For instance, the face makeup prices at Sephora are noticeably pricier than the face makeup product price tags at Sally Beauty Supply, a competing beauty retailer that was able to rebound so well after COVID-19 lockdowns and managed to double its competition's foot traffic.
Therefore, as much as beauty enthusiasts may enjoy Sephora's products, the low foot traffic reports may well indicate that people aren't enjoying the company's high prices. Plus, online shopping skyrocketed during the beginning of the pandemic, and many likely didn't turn back. More online shopping means less feet in stores, which ultimately means lower foot traffic.