Why Once-Iconic Department Stores Are Finding It Impossible To Reach Pre-COVID Highs In Foot Traffic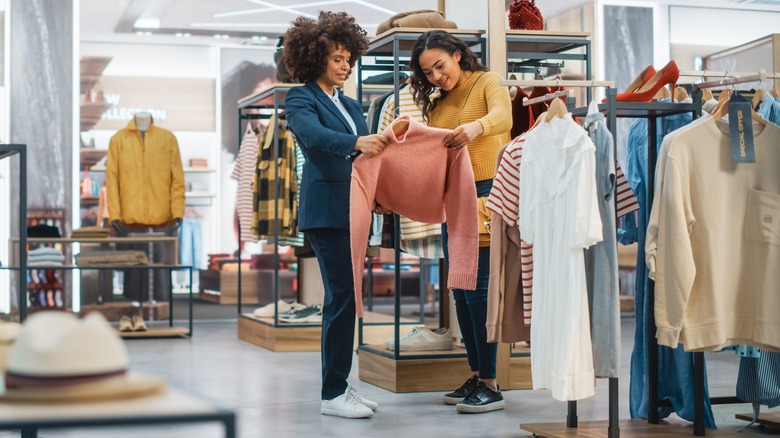 Gorodenkoff/Shutterstock
Do you remember when face masks weren't a part of everyday life, hand sanitizer typically only felt necessary in exceptionally germy or crowded places, and working or attending school virtually was a rare privilege? Although the COVID-19 pandemic only began two years ago, many naturally feel like life before COVID-19 is a world away from where we all are now.
We all know that the pandemic has changed how we live our lives, but it's not just individual lives that have been affected by this public health crisis. The fashion and beauty industries have been significantly impacted, too. For instance, many of Zara's in-store shoppers haven't returned after COVID-19 lockdowns despite how many visits the fast-fashion retailer got before the pandemic. And believe it or not, it's not just Zara dealing with this issue. Big-name, once-beloved department stores like Macy's and JCPenney haven't been able to get their foot traffic scores back to where they were before the pandemic hit either. 
According to data collected by SafeGraph, JCPenney and Macy's both hit all-time high foot traffic scores in the U.S. during winter 2019, just before the COVID-19 pandemic. Then, their foot traffic numbers understandably suffered a massive decline during initial lockdowns in April 2020. Now that over two years have passed, both department stores haven't been able to get as many visits as they did during pre-COVID life. But why is this happening?
Department stores signify an old way of shopping
We examined the data more closely, and JCPenney and Macy's both had six-figure high foot traffic scores of 156,377 and 104,783, respectively, during December 2019, a few months before the pandemic began. However, in early April 2020, JCPenney and Macy's had barely any in-person visits; their numbers dropped to 4,090 and 1,975, respectively. Fast forward to mid-July 2022, and JCPenney and Macy's only had foot traffic reports of 40,408 and 21,855, respectively. Although the numbers have improved since April 2020, the number of in-person visits both retailers are experiencing are nowhere near what they were before the pandemic.
However, these numbers don't mean that people don't shop at JCPenney and Macy's anymore — people just haven't been shopping in the stores as much. JCPenney and Macy's have extensive websites, offering people another convenient way to purchase items. According to Raydiant, 55.6% of shoppers would rather buy products online, while only 44.4% would rather shop in person. Thus, those low foot traffic scores are likely a result of online shopping's popularity. Of course, Amazon has been a consistent force in the death of department stores over at least the last decade, with Forbes reporting in autumn 2021 that Amazon intends to open its own department stores just as it continues to open Amazon Fresh grocery stores and AmazonGo convenience stores.
These department store chains aren't officially dead, but they may shift increasingly toward online shopping to maintain momentum. For now, though, their in-person visits remain low.