What To Know About The Pinch Waist Jeans Trend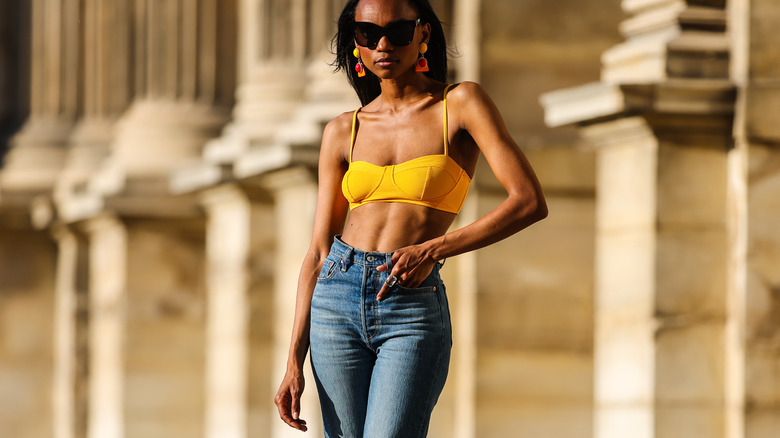 Edward Berthelot/Getty Images
We love how high-waisted jeans flatter any body type with their leg-elongating effect. Anyone who enjoys high-rise jeans as much as we do will love the pinch waist jeans trend. This denim trend is inspired by fashion from the 1990s and features such a high rise that the waistline practically goes up to your ribcage (via StyleCaster). Pinch waist jeans typically have a straight, cropped cut and are an excellent option for anyone who aspires to appear taller with longer legs. As fun as it is to style boyfriend jeans for any occasion, we recommend giving the pinch waist style a chance if you're ready to try another trendy, stylish look.
Anyone looking for a little bit of inspiration regarding how to style these jeans can find some outfit examples on Instagram. For instance, if you want to dress them up, they look beautiful with a cropped blouse featuring puffy shoulders. Or, try pairing your pinch waist jeans with a fitted black top for a sleek look. Are you ready to start shopping for a pair?
AGOLDE is dominating this trend
According to StyleCaster, one brand that has been absolutely killing the fashionable pinch waist jeans trend is AGOLDE. For those unfamiliar with this brand, AGOLDE sells vintage-inspired products, and their pinch waist jeans have become remarkably popular. With over 274,000 followers on Instagram, AGOLDE is dominating the trendy denim niche. The AGOLDE website explained that the brand puts its own current spin on retro looks, and they believe in being sustainable.
When you go to the Best Sellers category on AGOLDE's website, you'll see a plethora of '90s-esque pinch waist jeans with prices starting at $178. For instance, AGODLE's 90s Pinch Waist High Rise Straight jeans in drum, a white hue, are selling for $178. Other successful retailers are selling AGOLDE jeans as well, such as Free People, where they have a rating of more than four stars. It's safe to say that people are loving these jeans, and we see why.
Levi's Ribcage Jeans offer the same type of look
If you're eager to jump on the pinch waist jeans bandwagon but don't want to pay AGOLDE's prices, you have another option. The classic denim brand Levi's has a whole category on its website devoted to Women's Ribcage Jeans, which look just as high-waisted as AGOLDE's pinch waist jeans. Plus, many of these trendy jeans have price tags below $100 or barely over $100, so you won't have to break the bank to flaunt this flattering style.
Are you searching for more ways to style these vintage-chic ribcage jeans? If that's the case, all you have to do is search #ribcagejeans on Instagram, and you'll find more than 1,000 posts — the outfit ideas are endless! For example, pairing blue ribcage jeans with ankle boots and a top with an animal print design will make you look super sophisticated. Meanwhile, rocking white or off-white ribcage jeans with white sneakers and a black shirt will offer the perfect contrast for a bold, timeless vibe.
So, are you ready to start experimenting with the pinch waist jean trend?